Zhao Rong Mao
| | |
| --- | --- |
| Played by | Zero |
| Name | Zhao Rong Mao |
| Gender | Male |
| Age | 23 |
| Race | Human:Yuanian |
| Birthdate | Febuary 29 (but it changed to 28) |
| Height | 5'9" |
| Weight | 25kg |
| Hair | Snowy-White |
| Eyes | Sky |
| Skin tone | Tanned-Asian |
| Occupation | Wanderer |
| Favourite food | Yuanian-food |
| Known skills | Martial arts combat with magic buffs and healing |
| Alignment | Moody (good to his loved ones, and bad ass for the rest) |
| Birthplace | Gonryun |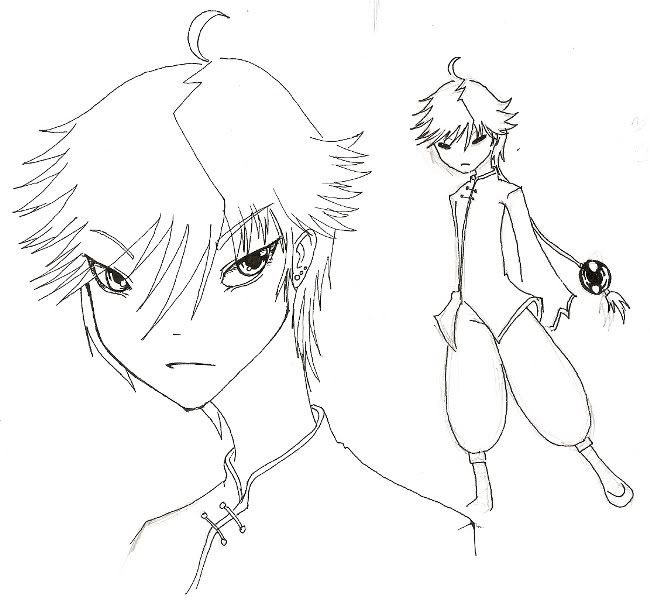 Appearance
Head
a snowy white hair that has an idiotic hair curving up, with a zigzag hair line, bang that form a wing going to the right (your right) with the ordinary half bang in the left pointing down. he has a hair tail with the tie on its end with a sky-blue orb.
Yuanian lady like eyes with the color of sky-blue with a tannish brown blush below the eyes (copy hibari kyouya's eye style)
Clothing
white cloth and a gold line (http://www.finechineseclothing.com/eng/Product/Bigimg.aspx?ProductID=132) with ripped long sleeves that goes loose going to the hand completely covers the hand. with inside shirt and wearing a pants and a bondage as his socks and a Chinese white Traditional Kung Fu Shoes.
Personality
serious, cold and noble man with a Scariest glare. and totally opposite when it comes to his cute brother Rhen Xun Mao
Bio
Zhao Rong Mao ("Zhao") live in peaceful Gonryun and his family is Noble Magicians which is they are extremely good with magic. when Zhao was a child 10 years old and he has a 1 year old little brother Rhen Xun Mao ("Rhen") he was just walking around Gonryun and met a loud champion who came in travel (zhao doesn't like loud people) and the Loud champion have a conversation with Zhao after that the loud champion continue on his journey and Zhao thought to be a champion in the future to enable to protect and stand for himself especially for Rhen. Zhao Gone trough hardships and delayed a year because he took being a Trianthianism because of the distance the near fact that Zhao is a Shuukyo (since he's Yuanian) he purposely failed the test and continuing being a monk to be a champion in the future. after he graduated as a champion.As he went home, there was a fire in house Zhao came qiuckly for rescue but his parents was not able to survive but he found that his parents was protecting Rhen he took rhen qiuckly and leave the house. His parents died because of a fight between family nobles. and he continue on and supporting Rhen in what he does.
Zhao Rong has the looks of his father but the hair color comes from his mother and his father is good in combat and has monstrous strength a good father with excellent reflexes, while his mother is good in magic and a wise woman and she loves cute things ended up dead.
Relationships
- Zhao's Brother who grew as a spoiled innocent kid due to his love.
Leone (Last Name must be kept secret)
-a 16 year old kid who just joined in the fight where Zhao Was Ending that Zhao Saved him. ended up as friends and Leone is a Loud kid.
Notes
due to his attitude, looks and way of posture he ended up picking a fight for no reason and shows no mercy he might ended killing people without conscience. and does not like being with loud people and sucked when it comes to love relationship.
Special Note!: when he touches cute and adorable things he goes berserk and ending them up good as dead after that he won't remember a thing what happened.
Age History:
10 - none
15 - Novice
16 - Acolyte
17 - Trianthianism (Failed)
18 - Monk
20 - Champion